idea man noun
Definition of IDEA MAN
: a person with an unusual capacity for visualizing and formulating new techniques, approaches, products - Merriam-Webster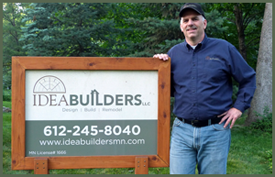 Clients call Joe the "idea man" because he fits the definition. He incorporates fresh ideas, that enhance both vision and value, into every project he undertakes. It didn't take long for the nickname to stick, and it became the origin for the company name, IdeaBuilders. As owner and general contractor of IdeaBuilders, Joe has built a successful business and reputation on his talent for turning ideas into outstanding results.
Joe first started in the remodeling business in 1979, restoring mansions in the Kenwood area of Minneapolis. Over the years that followed, he further honed his skills through sub-contracting and apprenticeship. Joe found that he had a true talent for this work and it was here, in this unique industry where things like perfectionism and micro-management are prized, that Joe found his passion. In 1992, Joe became licensed as a residential building contractor, and IdeaBuilders was born.
The consummate professional, Joe takes pride in treating all of his clients with the utmost integrity and honesty. He's one of the few people who routinely breaks the old adage "never do business with friends" because his top priority is that his clients, no matter who they are, are always completely satisfied. Every client is treated like they live next door – and several do!
Joe enjoys spending time with family and friends, trips "up North" to the family cabin, and the many outdoor recreational activities Minnesota has to offer, including hunting, back-country snowmobiling and hockey.